ABOUT US

Cookies & Biscuits Records is

...the very first punk-o-matic label ever. Yes, ever. We rock that hard. Back in November 2009, SpankyRevolution was thinking about making a label at the dawn of his second punk-o-matic album. He then found Leoshi on the quick chat. At the time, Leoshi would have made already 4 albums with the punk-o-matic. Spanky told Leoshi the idea and they would both start working on it. The name came from the fact leoshi would always pop out in the punk-o-matic's quick chat saying "whatup biscuits?" while Spanky was famous for his special cookies on the site.

In the following two months, not a lot of artist would join the label. The main reason was that, with the arrival of punk-o-matic 2, a lot of people would stop making pom songs, sometimes since months. The label still hosted few pom1 albums, like Spanky's first two albums, Leoshi's five albums and Whitedivinity's "White Metal".

After the release of punk-o-matic 2, it took about a month before the site could get new albums. The first punk-o-matic two albums to come out were Nocturne's EP "Shy Of Perfection" and CSD's "A Collection of Ear Food". The label would then keep growing getting more and more artist. With the site growing and growing, C&BR had to make a lot of modification. First thing was to create pages for each artist to make everything look more neat, an idea that came from TheGhostOfRickJames. This is from where Spanky Revolution set what is now C&BR, with the artists' biographies and signatures system. There will later be the arrival of the Featured Album section, an initiative from Leoshi. With the arrival of Carnage TV, a new spot for music video was put up by Spanky Revolution, a huge fan of music videos.

Since the beginning of Cookies & Biscutis Records, the punk-o-matic albums area has changed a lot. First, there were Nocturnal Media Studio, a great partner of C&BR through the time. Also, Cookies & Biscuits found itself in a position of "competition" with the arrival of Thorn Records (May to September) and, later of the Lounge (August to January). This last label, combined with the technical problems of the label forced Cookies & Biscuits Records to place themselves in question and to find a way to co-exist with these new labels. By then, Leoshi was less and less often around to help the label. This is when Spanky would hire Bishop Butters as a co-administrator of the site. Together, they would set up a huge moving out to a brand new website with more space to post everything and a great side menu to get everything in few clicks. With the years coming through, AgentOhoolahan and Poetic also worked with us. In September 2012, Spanky decided to close C&BR for once, after releasing what was meant to be his last album ever, "Tempête Écarlate".

Fucking liar; C&BR opened back in December 2013 and Spanky still wants to make albums. Fucker.

Cookies & Biscuits Records set the base for punk-o-matic labels and paved the way to a lot of punk-o-matic related websites, such as Nocturnal Media Studios or the POM Records. We really love ourselves and talking about how cool we are.

WONDERFULL

STAFF

Spanky Revolution (Co-founder and administrator)

After being part of Leoshi's album "Ode to Eargasm", Spanky Revolution had the idea of making his very own album. After few months, he decided to take the best songs he had an to make an album out of it, "SnR" in August 2009. He had done two different websites for his work, transferring his stock from webeden to webs. At the dawn of the release of a new album, Spanky had the idea of creating a label, in cooperation with Leoshi. Since the label exists, he created two new albums. The first one, Here Comes the Revolution, was his second punk-o-matic 1 album as "Tonight Is the Night" was the very first non-punk-o-matic album to be on the label. This last album forced him to push again and again the date of release of his first punk-o-matic 2 album, that finally came out in mid-September. He since then have released numerous albums and singles.

Powered by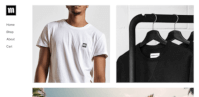 Create your own unique website with customizable templates.