APRIL
Get aureal boralises in warm days with Adrian! (28th)
Days are getting warmer and warmer my friends, but it's not a reason to think you can't get aureal boralises anymore! Thanks Adrian for this hehe. His second album is out now and features 11 brand new songs, with a more alternative sound. The album features the hit "All Quiet on the Western Front", from which a music video had been made few months ago. It's full of light, marvelous, touching, hypntoizing and colorful just like a real aureal! Get it now guys!
COOKIES & BISCUITS AWARDS: VOTE FOR YOUR WINNERS NOW!!! (27th)
YES GUYS! The finalists have been revealed last Saturday and now it's time for you to vote in the final round! You can now try out your voice for one album, artist, cover art, song or video for each category! You will even be able to listen directly from the voting page to all the finalists for the "Best song" and "Best collab" categories through Grooveshark widgets!!! You have now until May 12th in order to cast your votes. We now wish the best of luck to the finalists and may the bests win!
DecyferIt brings you back to the Neithers! (26th)
One of the most active artists of 2011, DecyferIt, is coming back with a fresh new EP called "Back in the Nethers". Maybe some of you think it had been long since his last album, but Decyfer definetly thinks it worth the wait, as he himself consider this album his best work ever. The album has 4 tracks, including the smash hit "Amor Vincit Terrarum", an 8 minutes long masterpiece for your tasty ears to eat!
Rofl Monster is miles away from Punk-o-matic 2! (24th)
Screw POM, Fruity Loops albums is the new thing! You Won't Know is out since few hours that Rofl Monster gives us his very first non-punk-o-matic album, "Miles Away"! Discover his very first work with the wonderfull world of FLS10 with an experimental industrial sound. Meet our national Roofie as he flirts with drum 'n bass, techno, classical and all that jazz! Though I doubt there is jazz in there... Anyways, this is surely an album that would look really nice in your computer. And you will love it even more once you'll start listening to it!
You must know about Spanky's new album! (23rd)
YES! Exactly one year after the smash hit "Tonight Is the Night", winner of the best concept/experimental album in the last Cookies & Biscuits Awards, Spanky finally gives you a second non-pom album with "You Won't Know"! A 18 minutes EP full of Rock-Punk-Industrial-Electro-Experimental-Metal-Dance-Metalcore! The album includes the song "Crossing Oceans", described by Saiga as "Pretty chaotic...but it made so much sense. Wonderfully done." GO GET IT NOW!
Nocturne's new band Into Avoca just for you! (23rd)
It makes a LONG time since New World's Wasteland. And now finally, Nocturne is back with a new album! Now he got a new band, into Avoca, and they give us the album "Yesteryear". Everything about Nocturne seems already said, but you must not miss this opportunity to download some of the finest melodic rock music in THE WORLD! How could you miss an album from the best artist of the first Cookies & Biscuits Awards?
Slashsslayer's second album: Take two! (19th)
You know sometimes artists can make albums in a rush and be proud on the moment of the release, but feel bad about it few times after. That's what happened to Slashsslayer, who decided to take down "The Destruction of Man (Incoherent, Messy)". But Slashs' fans, don't be too sad: You still have something to download! A brand new sound on this brand new album called "Hate Tainted Love"
Agent taking a break (19th)
Sorry guys, I'm in a bit of a rough patch right now and I simply can't handle my responsibilities on here at this time. I don't know when I'll be back, but I'll try to get back as soon as I can. For now, however, I'll have to ask everyone to contact Spanky for help with anything related to C&BR. I'm sorry for any inconveniences this may cause, and I hope to be back soon.

Rofl Monster makes you see double! (17th)


THE WAIT IS OVER MY FRIENDS!!! After "Wind in the Wires", the fnatastic Rofl Monster finally comes back and trust me, the wait was justified. Because today we have the chance not to give you one but TWO albums! The "Fallen Sinner" LP is released with a EP "Pictures and Words". The LP contains songs Rofl made under the name of "Fallen Sinner" on the punk-o-matic.net website (Don't try this at home though!). Meanwhile, "Pictures and Words" gives you 5 dark and sad songs. You have the choice now for what to download. Actually no... You need to download both!!!



Who needs W33zl's albums? EVERYONE! (16th)


It has been only 3 weeks since its breakthrough album and W33zl is back for more! "Who Needs Album Titles?" is a science-fiction story where Dr. Weegee decides to implant an human brain to a weasel, creating the one and only W33zl. You can once again find his unique style, with a mesh of something-core punk-o-matic 2 songs and experimantal noise rock. It's spreading all over the walls and sounds just plain fucking awesome. GET IT!



Hiti, Hiti, Hiti and even MORE Hiti! (13th)


YES! Ladies and Gentleman, it's an honour to present you Hiti on Cookies & Biscuits Records! The winner of the Punk-COmatic contest for the punk category finally releases his first EP, filled with the best of his old work that made his reputation. A new EP shall come as well with never heard before songs. GO GET IT!



Watch Agent's Transformation! (10th)


This new album isn't quite a best-of album, but it chronicles Agent's career. In it we see how he's progressed as a POM artist. For that very reason, you should all download this album!



COOKIES & BISCUITS AWARDS: VOTE NOW FOR THE FIRST ROUND! (9th)


YES! After hours of work, I can now proudly claim the Second Cookies & Biscuits Awards up open! 52 albums from 30 artists in 11 categories are hoping to get your votes! Make your choices for your favorite albums, songs and artists with the brand new page dedicated fully to these Awards. You will find there all the available choices for you to take from as well as all you need to know in order to cast us your votes correctly. You have until April 22nd to vote.
Powered by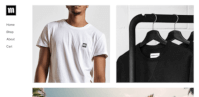 Create your own unique website with customizable templates.