CARNAGE TV

What is this?

Welcome to Carnage Tv's spot on C&BR! Once in a while, we will feature music videos on here from our artists. Note that you can see ALL the music videos that will be presented here on Carnage TV!

This time:

RIOT

from


SPANKY REVOLUTION!




Director:

Étienne Grignon

This video features the song from Spanky Revolution's new single album "Riot" on the band's last North American tour that ended in early February. You can see the band playing in several shows as well as some footage of the guest bands that were touring with them, which are Spectre's band "Pay the Price", Z3nest3r, The Ghost of Rick james, Burger, Trace of Hatred and Rofl monster from a live TV appearance they did on February 5th with Spanky Revolution; the last date of the tour.

FOR MORE AWESOMENESS:

www.punk-o-carnage.weebly.com
Powered by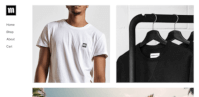 Create your own unique website with customizable templates.