FEBRUARY NEWS

ANGELS/ABYSS IS BACK WITH HIS FINAL POM2 ALBUM! (28th)
With his final POM2 effort, Angels/Abyss has released a 5 song EP. All of the songs are remastered versions of some of his older work. Since he won't be releasing any more new stuff until POM Pro comes out, you should grab this album as soon as you can!
UNFORTUNATE NEWS (26th)
Due to unforseen circumstances, Spanky is unable to edit the site. Therefore, any and all albums will have to be sent to Agent to be uploaded to the site. We are very sorry for any inconveniences this may cause and we hope this will not last for long.
YOURHEROTHEEPIC IS NOW ON COOKIES AND BISCUITS! (26th)
That's right, YourHeroTheEpic has finally released an album, and it's here for your listening pleasure. Featuring eight songs, including collabs with Superkowz and Saiga, this album surely will not disappoint. So. What the heck are you waiting for? Stop wasting your time reading this and GO DOWNLOAD IT!
SYNTHETIC AUDIO ARRIVES! (23rd)
You want something epic? You've got it. Synthetic Audio is here on Cookies and Biscuits Records featuring their first ever album - Acoustic Thoughts. This album contains songs from Nocturne and AgentOhoolahan, though their third bandmate - traceofhatred - does not make an appearance. Despite the fact that you won't be able to hear Trace's sexy voice, this album contains more than enough epic-ness with Nocturne and Agent. So head on over to Synthetic Audio's page and download this album! NOW!
LOVES FAILS BUT NOT CITY X! (21st)
Finally, after the success of its first eponymous album and its subsequent single and deluxe version, City X is back with new material! Sadly, this is going to be the last music you will ever hear from the band, so run download this last LP!
SAIGA IS BACK WITH A 10TH ALBUM!!! (17th)
Well looks like... SAIGA NOW HAS DONE 10 FREAKING POM2 ALBUMS!!! "Eye of the Blossom" is Saiga's longest album, totalizing over 40 minutes. Punk as usual, epic riffs as usual and collabs as usual are waiting for you, this time with POM2 legend Burger and Newcomer YourHerotheEpic. According to him, Saiga was working on this record since January, by the same time he was working on his EPs and on Hemingway III. GET IT NOW!!!
DECYFERIT IS BACK AT IT WITH A NEW SINGLE! (11th)
DecyferIt, formerly known as JerseyProperty as you all know, is now making his 4th release on Cookies and Biscuits, this one being a single from his upcoming collaborative album with Z3nest3r. It will feature certain surprises, including an exclusive music video! So what are you waiting for? Go download it!
BURGER AND SPECTRE RELEASE THE FIRST COLLAB ALBUM! (10th)
That's right, two of POM's top artists, Burger and Spectre, have teamed up to make a 12 song collab album. This album features 7 songs that you will not find ANYWHERE else. This is the first POM2 collaborative duo album, so be sure to grab a part of history! Go to the Various Artists page to download it now!
SAIGA CONCLUDES C&BR'S MOST FAMOUS ALBUM SERIES! (10th)
All good things come to an end, and looks like Hemingway is now over my friend. After a 3 EP break, Saiga finally gives us the long-awaited third episode of the epic Hemingway serie. We laughed, we cried and we headbanged. 9 amazing songs are waiting for you with everything you always loved about Saiga. And when I say everything, I mean EVERYTHING, including a wonderfull snowman. RUN DOWNLOAD IT!
SPANKY REVOLUTION IS STARTING A RIOT! (6th)
Yes baby, Spanky Reovlution is back with a new single album for the song "Riot"! If you liked the version of the song in "We Won't Die", you MUST listen to the one in the singel, as it features custom drums! The album also includes two new songs, "I Killed a Man" and "Die Young and Save Yourself". You can also find the new video for the song in the Carnage TV spot this week!
Powered by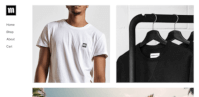 Create your own unique website with customizable templates.