NEWS
2016MAY
NEW ALBUMS:
Milzam - NURSERY DAYS (EP - 7th)

FEBRUARYNEW ALBUMS:
​Spanky Revolution - HEART BLOOM (23rd)

JANUARYNEW ALBUMS:
​The Atlantics - TALES FROM NOWHERE (24th)
The Atlantics - CLOSED MINDS THINK ALIKE (24th)
Forces Of Hate - BETTER THEN THE LAST (EP - 16th)​
Forces Of Hate - BELIEVE IN DEATH (EP - 9th)2015DECEMBERNEW ALBUMS:
The Plane Bombers - THE PLANE BOMBERS (21st)OCTOBER
NEW THINGS ON THE LABEL:
17th: With this new push to make the website more lively, I came out with two new ideas of projects in which you could be part of.
The first one is a compilation, some kind of snapshot of the Pommunity in 2015. I created
the topic
in the forums yesterday and I already received some stuff. I think that this project can not only be good for C&BR, but also for artists that are looking forward to promote their albums.
Also, I am launching a massive new campaign for a community-created countdown of the best cover arts ever on this label, as well as on
Crispy Singles
. With this project, you can vote for your favorite cover arts and win prizes such as +1s and a custom-made cover art!
All the details are available here
.
14th: The website never looked as great as it does now! I'm very proud of the label and I've always been, but I felt that the old look was getting a bit... well old. Sure, trough the years I made some changes here and there, altering the color scheme, tweaking the HTML, etc. But nothing felt as solid and important as this new look since when we made the change from webs to weebly in 2010. I've never felt that the site looked like something this "real" until now. The main page looks amazing and those lurking Moo Moos are pretty cool if you ask me. The menu still showcases all of the artists names and it's easy to go through them, but they no longer steal the show like it did on the old website. I also got rid of some stuff that was eating the space in the old main page to make it cleaner and less clunky. I am also going through all of the artist pages to update them to the new look and make sure that they are all uniform. This operation might take a little while, but it should all get done before the end of the month.

JUNE
NEW ALBUMS
The Night Before - PUNKHEAD (14th)
MAY
NEW ALBUMS
Forever the Young - FEATHERS (4th)
APRIL
NEW ALBUMS
Skyrocker & Komorga - Once Upon a Forecast (17th)
FEBRUARY
NEW ALBUMS
Forever the Young: IMAGINATION (12th)
JANUARY
NEW ALBUMS
Various Artists: NOW THAT'S WHAT I CALL POM! (6th)
2014
FEBRUARYNEW ALBUMS:Forever The Young: THIS TOWN IS A MESS (6th)Turtlebite: THE TURTLEBITE TAPES (EP - 5th)The Fiends: CALL-FORTH THE DEMON (3rd)The Fiends: INCOMPLETE REINFORCEMENT (Single - 2nd)JANUARYNEW ALBUMS:Life of a Lucid Dreamer: AFTERMATH (29th)Justify: SAVING JUSTIFY (Compilation - 27th)Conscientia: THE DOWNFALL (8th)Chester: A BURNING SKYE (1st)NEW THINGS ON THE LABEL:
21st: After over a year and a half of its red look, I decided to clean the website a little. The front page was a bit of clutter and there were some stuff laying around that were totally not necessary. I therefore went over everything and I think it looks way more kick-ass now. I also changed the color of the background for something a little more in the theme of the other colors hanging around. So far, the feedback about the new look has been very good and I am glad to see that you guys love it. I also changed the
Submit your album
page to make it even more clear to everyone as to how to give us your albums. Finally, I created a new logo for C&BR, using the great ol' Moo Moo's face with some effects and colors around it.
2013
DECEMBER
NEW ALBUMS:
Powerstars: THE NEW ROCK AND ROLL (Single - 29th)
Concsientia: DAWN OF A NEW DAY (18th)
Emblem Distortion: CUTS (18th)
NEW THINGS ON THE LABEL:
18th: After over a year on hiatus, Cookies & Biscuits Records is finally back up! This reopening will give the chance to many members to go back on the first label for Punk-o-matic albums and realize how many great records have been made in the past. Hopefully, we will be able to showcase even more amazing albums from now on!
FOR MORE NEWS, GO TO THE ARCHIVES SECTION HERE!
Powered by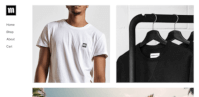 Create your own unique website with customizable templates.