SPANKY REVOLUTION'S STATS

Spanky Revolution's albums

HEART BLOOM
TEMPETE ECARLATE
SPEAK WHITE
BEST OF
PONEYCORE
WITH THE SPANKYS

YOU WON'T KNOW (EP)

ANTHEM

RIOT

WE WON'T DIE

SNOW ON MANHATTAN

RACING THE SUNSET
TONIGHT IS THE NIGHT

C&BR AWARDS


WINNER:

Best experimental or concept album

HERE COMES THE REVOLUTION

Click to Download // Cover by Spanky Revolution
Our second album. After SnR, we were kinda sad from seeing the songs that couldn't be on the album but that were still very cool. That's where the idea of making a second album came. On this one, a lot of songs has been made with the purpose of making the album. There are 13 tracks plus a bonus song. It includes some of our best song ever, "Here Comes The Revolution". It's actually a two-part dual song. Epic way to start the album. It also includes a dual with Marco and a bonus song by him. Finally, it has the best song names ever: Kicking Myself In The Nuts ; Sucks To Be A Sock ; 1 MC & 1 DJ (collab with Marco 109) ; Cookies, Chocolate, Pepsi and Vc² ; Lemonade Under The Stars or Me vs 2501104 Monsters. Something you should definitely check out!
---
SNR
Click to Download // Cover by Spanky Revolution
---
Spanky Revolution's Bio

Powered by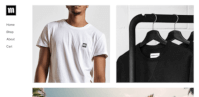 Create your own unique website with customizable templates.