JANUARY 2011

SPECTRE JOINS C&BR WITH 4 CLASSICS AND A NEW ALBUM! (30th)
Here are now news that I'm really excited to share with you: the Punk-o-matic 2 legend Spectre is now with Cookies & Biscuits Records! You can now go in his page and listen to his first 4 albums that were originally NMS exclusive albums with widgets and download them. But now only that: Spectre enters with a new album as well! A new album called "VS" that will soon enough have a widget for you guys to listen directly on the site! A total of 13 songs, including 8 exclusive tracks, are waiting for all Spectre's fans!
YOU HAVE A PIC OF YOUR BAND? GIVE IT TO US!!! (28th)
Alright, so if you were active these last days on the forums of the punk-o-matic, you probably noticed this new thread from Trace of Hatred with band pictures. Also if you saw The Ghost of Rick James' page in the last weeks, you probably noticed he has a band picture. Well I (Spanky Revolution) took a decision and from now on, you will have the opportunity to add pictures of your band on C&BR! To start it off for now, you will only have the possibility to have one picture on your profile, but I might extend it in the future. The pictures can be done by anyone, it can be a screenshot, a hand-draw, a photo by Trace, etc.
VARIAX CAN MAKE ALBUMS TOO! (28th)
I don't rememebr receiveing that much albums in so less time. We now have for you a 9th album in two weeks and at the same time the third from a new Cookie boy! Hell right: Variax is now part of the evergrowing family of C&BR! His very first album, Starcaster, features the best songs from this brand new punk rock artist. So if you feel like discovering something new, vote Variax!
DANS17 RELEASES A NEW ALBUM! (27th)
Oh boy, oh boy. We now have 3 releases today. This third one is from Dans17, with his album: The Lowlight of My Life. This album marks a change in Dans' style, as featured on his song "Chasym". Want to hear this new style? Well, go on and download it off of his profile page!
JERSEYPROPERTY IS BACK IN ACTION AGAIN! (27th)
Releasing yet another album (his third of the month and second this week!), JerseyProperty is quickly becoming one of Cookies and Biscuits Records' most active artists. This new NON-POM album, Free The Airwaves!, was made using Aviary's audio editor. What are you waiting for? Go to his page and download it now!
ANGELS/ABYSS JOINS C&B WITH A NEW SINGLE! (27th)
After having released a couple of albums on the Lounge, Thorn, and AHQ in the past, Angels/Abyss has now released a single here on Cookies and Biscuits Records. His song, The Blood Stained Road, is a representation of the new direction in which he wants to take his Blood Stained Road song series. So head over to his page and download it now!
SEE THE BEST COVERS OF 2010 IN OUR NEW SECTION! (26th)
New section? Best covers? You read it right! Since C&BR is opened, a lot of cover arts blowed our mind, and it looks like it will never stop! After a chat between Spanky and The Ghost Of Rick James, the idea of adding a monthly top 3 of the best cover arts was born. This new section will showcase forever the cream of the cream of the art of the front cover. Before getting started with the month of January, we decided to offer you what we think are the 10 best covers of 2010. It's without any surprises taht the names of Jod.Drummer and Nocturne appeared a couple of time in our new rubric, but we hope to see new faces getting in it for the next months. It's a rendez-vous that you cannot miss! You can enter the page at the top of the artists' menu.
JERSEYPROPERTY RELEASES A NEW ALBUM! (24th)
That's right, JerseyProperty (aka DecyferIt) has released his second album on Cookies and Biscuits Records. With some of his best songs, including The Pilot, this album is sure to be worth a listen. This album, as he says, is his musical style in its pure form- not influenced by his two mentors (AgentOhoolahan and Rofl Monster). So go on and download it now!
ROFL MONSTER IS BACK AFTER 100 SONGS! (21st)
No, his new album does not have 100 songs, but it might have the best he ever made. Rofl Monster, strong after winning the most improved artist award in the first edition of the C&BR Awards, gives us today some of his finest work to date. With his new awaited album "Wind in the Wires". A huge compilation of his last hits awaits you in this 30-songs masterpiece. SO, what are you waiting for?
J2456H RELEASES HIS SEVENTH ALBUM (20th)
Now that the Lounge has closed, J2456h is now releasing his seventh album here on Cookies and Biscuits Records. Head on over to his profile page to download it now!
AGENTOHOOLAHAN RELEASES HIS NEW ALBUM (17th)
After months of working on his album, AgentOhoolahan has finally released it. It's only six songs long, but it contains tracks featuring two of POM's best composers, Spectre and Rofl Monster. A relatively short album, it's still definitely worth the listen, so go ahead and download it!
AGENTOHOOLAHAN JOINS THE C&B STAFF! (16th)
Hello, everyone, Agent here to announce that I have officially joined the Cookies and Biscuits Records Staff as an Administrator. As you all know, Leoshi stepped down from his post here at C&B. That and the fact that Bishop Butters hasn't been around as much as he used to be, Spanky needed some help with running the site, and he asked me to join. I'm really happy to be on the staff and I'd like to thank Spanky for choosing me to be the new C&B Admin. Rock on, people of POM, and keep creating albums!
BONGERS RE-RELEASES DIARY OF A DOUCHE FOR C&BR! (14th)
With the end of the activities of Lounge Act Records about a week ago, it was previsible to see some Lounge artists joining Cookies & Biscuits Records. We had JerseyProperty earlier this week and now it's Bongers' turn! He now offers his album "Diary of a Douche" on Cookies & Biscuits Records, an album that received a rating of 5/5 stars by Mr. Review! If you don't already have this album, you need to give some awesomeness to your CD collection!
COOKIES & BISCUITS NOW OFFERING PICKLES! (13th)
It was with a lot of surprised that I found Skoobysnax coming in the Cookies & Biscuits' chat telling me he wanted to have his album on the label today. And believe me, I was even more surprised when I found out he was actually Ripped Pickle! For those of you that don't know it yet, Ripped Pickle is a band that made a lot of music videos in the past, which you can find on Carnage TV. Well now you can download the album on our label! An album of unique punk music with some metal and ska surprises.
SAIGA IS UNSTOPPABLE! (13th)
Well looks like Saiga can't get enough of making albums as he releases a new album only 6 days after Modern Man! His brand new album, "Taste the Bait" features two collabs, one with TraceofHatred and another with three other big POM names, which are Burger, Spectre and Z3nes3r. Saiga promesses us new catchier than ever punk song in what is garanteed by Saiga himself to "blow your mind"! So Saiga fans, no need to wait for new stuff: go in the Saiga's page you know so well to get his 8th (YES, EIGHT!!!) punk-o-matic album with C&BR!
MAJOR DEAL BETWEEN CARNAGE TV AND C&BR! (10th)
Ohai guys! Major news here. We just signed an awesome contract with The Ghost Of Rick James regarding Carnage TV and Cookies & Biscuits Records! In said deal, Carnage TV will from now on make a Carnage radio that will include the songs that made the object of a music video. On my side, I must try to update the Carnage TV feature more frequently and also keep a blog that I must update monthly with news about Cookies & Biscuits Records on the punk-o-matic.net. The original contract can be found on the "Archives" page that you may find in the front pages menu.
JERSEYPROPERTY JOINS C&BR! (9th)
After making alums for a while with Lounge Act and on his own personal website, JerseyProperty is now part of the Cookies & Biscuits big familly! We now have the honor to host his last album "Trips Into the Nether", the final version to be exact. With the help of AgentOhoolahan and Rofl Monster as mentor, Jersey put his lungs on a solid 12 track long play, with a bonus extended 13th song. If you are looking for some fresh stuff, Jersey is your man with his alternative, pop-punkish experimental music!.
SAIGA IS A MODERN MAN (7th)
Hemingway III is still to come, as pre-production is not started, but Saiga assures us that he will work on it for sure. Meanwhile, Saiga's fans still have something to start the new year on a nice way: Saiga releases "Modern Man" now! Modern Man is already Saiga's 7th album and gives once again some solid hardcore and pop-punk music with catchy riffs and catchy titles! According to AgentOhoolahan, the albums is even more melodic and almost popish... read the full quote - and download the album now!- in Saiga's profile page on your left!!
HAPPY NEW YEAR EVERYBODY!!!!! (1st)
As you know, 2010 was the first real complete year of activity of Cookies & Biscuits Records, and God knows we made a long shot to make our label where it is now. From the first album of 2010, "No Sunrise to the Punk-o-Maddicted" that featured the cream of punk-o-matic 1 to the C&BR Awards, passing by the incredible amount of punk-o-matic 2 albums we've received, the albums from well-known artists and from surprising beginners, last year was fucking awesome. Now it is time to turn the page for a brand new year. A year where we should expect even better work, sounds we've never saw before. I know for a thing that a lot of artists out there are planning massive work, and for some of them, I don't even have the right to talk to you about it.With the release of Pom PRO, this year should be even better than ever for our small label that, who knows, might just grow even bigger.
C&BR AWARDS: RESULTS NOW OUT!!! (1st)
Alright guys, first, I am totally sorry for the delay with the results. Actually, I had the results even since the day the votings were closed. The problem is that I wanted to reveal the winners into a big pom-cast where every category would have been presented by a different pomer, mbut the whole project felt flat. I am therefore really sorry for those of you that worked hard on making a nice presentation for pretty much nothing... anyways, here are the winners!!!
Song of the year:
A Blackened Nostalgia by Nocturne (The Rebirth of the Artist and the Past)
Collab song of the year:

The Silence in the Battle by Cyros Lugoth and Spectre (Blue Harvest V1: Unprecedented Genesis)
Cover art of the Year:
The Rebirth of the Artist and the Past by Nocturne
Punk album of the year:
A Time and a Place by Burger
Rock album of the year:
End of an Era by Nocturne
Metal or Hard Rock album of the year:
Reincarnation by Rofl Monster and XxXxTINOxXxX by XxXxTINOxXxX
Experimental album of the year:
Tonight Is the Night by Spanky Revolution
Most Improved artist:
Burger and Rofl Monster
Best new artist:
GuiHarry Sant
ARTIST OF THE YEAR:

NOCTURNE
Congratulations to every winner! You can find the nominees in the "Archive" page.
GIRLS: GUIHARRY SANT IS SINGLE! ERR... HAS A SINGLE!(1st)
And to kickoff this new year, C&BR has two brand new albums to give to you! First comes a single for every GuiHarry Sant fans!!! A two songs album called "Second Chance" waits for you in his section of the website. If you feel like 2010 got you black and blue, this is the perfect album to start the year on something more happy and upbeat! Let's see now if GuiHarry Sant, after an amazing end of year in 2010 will be able to keep his game at the top and become one of the headliners of Cookies & Biscuits Records!
SPANKY REVOLUTION WON'T DIE! (1st)
The other album is one I am very excited to talk about, since it is from me, Spanky Revolution! I released today my album "We Won't Die" where I took care of the mixing. This album features 11 tracks, including a collab with Spectre, a cover of "Broken Hearts Never Heal", the songs "Riot", "Anthem", "You Wanna Sink", "Snow On Manhattan" and many more! This album, in my opinion, features major improvements compared to Racing the Sunset. It'smore concise, more homogene but goes in more moods, has better hooks, better use of music theory more of... everything! - except for tracks, there are less tracks in WWD... I am also working on a Deluxe edition with mixing by Downfall-RiD, custom drums and stuff... more to come! But meanwhile, don't forget to download my album!
Powered by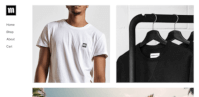 Create your own unique website with customizable templates.