---
Welcome to the new C&BR website! You will find all albums by your favorite artists by clicking "Menu" at the top right.
---
---
What's new?

-Milzam rereleases the Nursery Days EP at C&BR
-Spanky Revolution live up the hype with Heart Bloom
-The Atlantics join C&BR with their buzzing 2nd album and a re-release of their acclaimed first effort.
-F.O.H. already aim to a better sound on a new EP
-Forces Of Hate bring hardcore punk energy with a first EP
​-The Plane Bombers make their debut at C&BR
-The cover art countdown selection process is on
-Cookies & Biscuits Records get a major touch-up!
​-The Night Before offer a brand new album with Punkhead
-Forever the Young teams up with everyone on a new EP
---

---

Search on our site!

---

Get social!
---
2009-2016 A Cookies & Biscuits production. Created and managed by Spanky Revolution, though Leoshi did some work at some point and helped me in the first days. Moo Moo's face designed by Jod.Drummer. Powered by Weebly - Cookies & Biscuits Records is a non-copyright company but
copying it's name or it's concept would cause you to go to hell even if you don't believe in it.
Powered by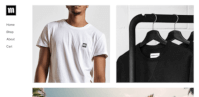 Create your own unique website with customizable templates.